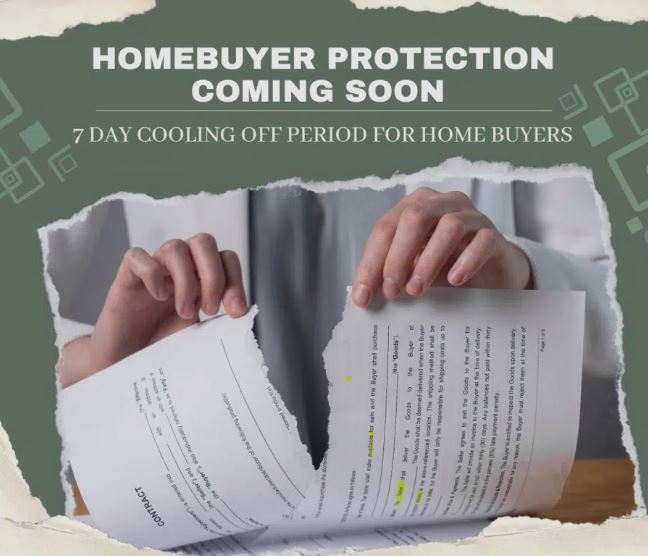 The 
BC government recently announced
 its intent to introduce legislation in spring 2022 that will mandate a cooling-off period for buyers of all residential real estate. But what is a "cooling off period" and how might it impact you?
A cooling-off period, also known as a "rescission period," gives buyers the right to withdraw from a purchase agreement within a specified period of time after an offer is accepted. Without a cooling-off period, if a buyer wishes to terminate a contract for reasons other than those laid out within the terms and conditions, they would need to negotiate with the seller and would typically face significant financial penalties or legal ramifications. It's important to note that the government's resources only mention the cooling-off period applying to buyers, there is no mention of it applying to sellers as well.
BC already has a mandatory cooling-off period for pre-sale developments. Buyers of strata properties under construction have a seven-day period from the time they receive a copy of a signed purchase contract or acknowledge receiving a disclosure statement where they are allowed to withdraw their offer.
For states that have implemented the policy, the period lasts between two and five business days.
They also have exemptions for mandatory cooling-off periods, including but not limited to instances when the home is sold by auction or if the buyer waives the cooling-off period.
Some states do not have penalties for terminating the contract within the cooling-off period, while others have penalties ranging from $100 up to 0.25 percent of the purchase price. Penalties are intended to deter potential buyers from making offers without an intent to purchase, which can cause issues for the potential seller. If a 0.25 percent penalty were to be implemented in BC using an average MLS® price of $913,000, that would result in a $2282.50 penalty.
Existing research suggests that a cooling-off period is unlikely to have a significant impact on consumers' decisions. Research by Deakin University found that when 60 consumers were faced with a 48-hour cooling-off period, none of them changed their minds when faced with a better alternative. The reason behind this lack of change is called 'loss aversion,' that the cost of losing something tends to be greater than making equivalent gains. For example, this means that the feeling of losing $100 tends to be greater than the feeling of gaining $100. Within real estate, this means that once a consumer has purchased a house, they are unlikely to change their mind and make use of a cooling-off period to terminate the contract, even if given comparable options at a slightly lower cost.
While the government's goal of a cooling-off period is increased transparency, it's worth considering the potential impact the policy could have on BC's housing affordability crisis. If implemented, more buyers would be likely to bid on more properties, potentially causing an increase in housing prices. In BC's extremely low supply conditions, this could increase prices by an additional two to three percent according to initial research conducted by BCREA.
BC's real estate regulator, the BC Financial Services Authority (BCFSA), is consulting stakeholders on the appropriate length of a cooling-off period and whether or not to include penalties for exercising the right to recission. In addition, the Ministry of Finance has also requested consultation on the following consumer protection policies:
blind bidding,
price baiting,
risks associated with unconditional offers,
home inspections,
financing, and
other conditions.
BC supports policies that consider the interests of all parties, changing market trends, give consideration to regional impacts, potential unintended consequences and also include a defined process to monitor the efficacy of the measures introduced. We encourage REALTORS® to respond to BCFSA's consultation by emailing coolingoff@bcfsa.ca and CC'ing gr@bcrea.bc.ca. The BC Real Estate Association will also be conducting our own consultation with Realtors through surveys and focus groups.
About Liz Penner | Your Best Langley Real Estate Agent
Liz Penner is a top-selling licensed real estate salesperson with the Fraser Valley Real Estate Board and has been a top-selling realtor specializing in the residential resale of condos, townhomes, and houses for over a decade. Liz assists residents of the Langley and Surrey areas to sell real estate while looking out for the client's best interests. Liz also helps first-time homebuyers, families, and repeat purchasers with their property search process, ensuring that her clients get access to the very best homes on the market while receiving excellent service ensuring that they find the perfect place to call home.
Liz holds a BBA in leadership and has completed a variety of specific training through the Fraser Valley Real Estate Board in the areas of selling strata properties, foreclosures, estate sales, and new construction properties. Liz is also well versed in POAs, the Strata Property Act, and more.
If you are looking for a knowledgeable and professional real estate agent that is willing to do everything possible to ensure that you get top dollar for the sale of your home or to find the dream home you are looking for in the Surrey and Langley, BC areas then get in contact today.
Why list your home for sale with Liz Penner
I've helped my clients sell over 400 condos, townhomes, and houses throughout the Langley and Cloverdale area, and I'd love the opportunity to do the same for you.
I've experienced straightforward sales and sales that have gone off the rails, back on the rails, off the rails, and then back on again. That's just the way the real estate train rolls, and it never rattles me.
I've got a solid toolkit to pull from when a problem arises. I take my job seriously each time, and I will make sure you get top dollar for your  Fraser Valley, Langley, or Cloverdale home, smooth sailing, or otherwise.
If you're looking for a realtor that you can count on in the Langley and Surrey area.
I'm your Agent!
If you want top dollar for your home
I can do that!
Do you want to save money on your next home purchase?
I can do that too!
What you can expect when working with Liz Penner
Fast, Reliable, and Quality service
Frequent Communication – from somebody who is available to serve you in the key moments that matter.
Expert Advice – from a well-trained and well trained and experienced agent with almost 2 decades of experience as a top-selling real estate agent.
Published on
November 17, 2021